14 Sep

Screpy – AI-Based SEO & Web Analysis Tool
1. Why is SEO important for your website?
SEO is an important factor for any website to be successful. It helps to ensure that your website can be found by potential customers, and it can also help to increase the search engine ranking of your website. SEO also helps to drive organic traffic to your website, which means more potential customers will be able to find you and learn more about your business. By implementing SEO strategies, you can ensure that your website is visible in search engine results pages and attract more visitors.
2. What are the benefits of using web analysis tools like Screpy?
Web analysis tools are becoming more and more popular in the digital world. They allow businesses to track keywords, website speed optimization, and improve SEO ranking. These tools can help businesses understand their customers better and make informed decisions to improve their website performance.
Web analysis tools also provide valuable insights into customer behavior that can be used to optimize content and design for maximum impact. They enable businesses to track analytics such as page views, time on site, bounce rate, etc., which helps them understand what works best for their audience. Moreover, these tools can be used to identify potential areas of improvement in terms of SEO ranking and website speed optimization.
Overall, web analysis tools provide a comprehensive overview of a business's online presence and allow them to make data-driven decisions that will help them maximize the effectiveness of their digital marketing efforts.
3. What are the key features of Screpy?
Screpy is an all-in-one SEO toolset that offers AI-based W3C monitoring, auto-generated tasks, and clean interface. It helps website owners to improve their website's performance by analyzing, presenting scores, and creating step-by-step guidelines. The tool also includes a keyword tracker (SERP), page speed monitoring, SEO monitoring, uptime monitoring along with syntax checker features for websites. Screpy provides AI-based personalized solutions for users and keeps eyes on their site 24/7.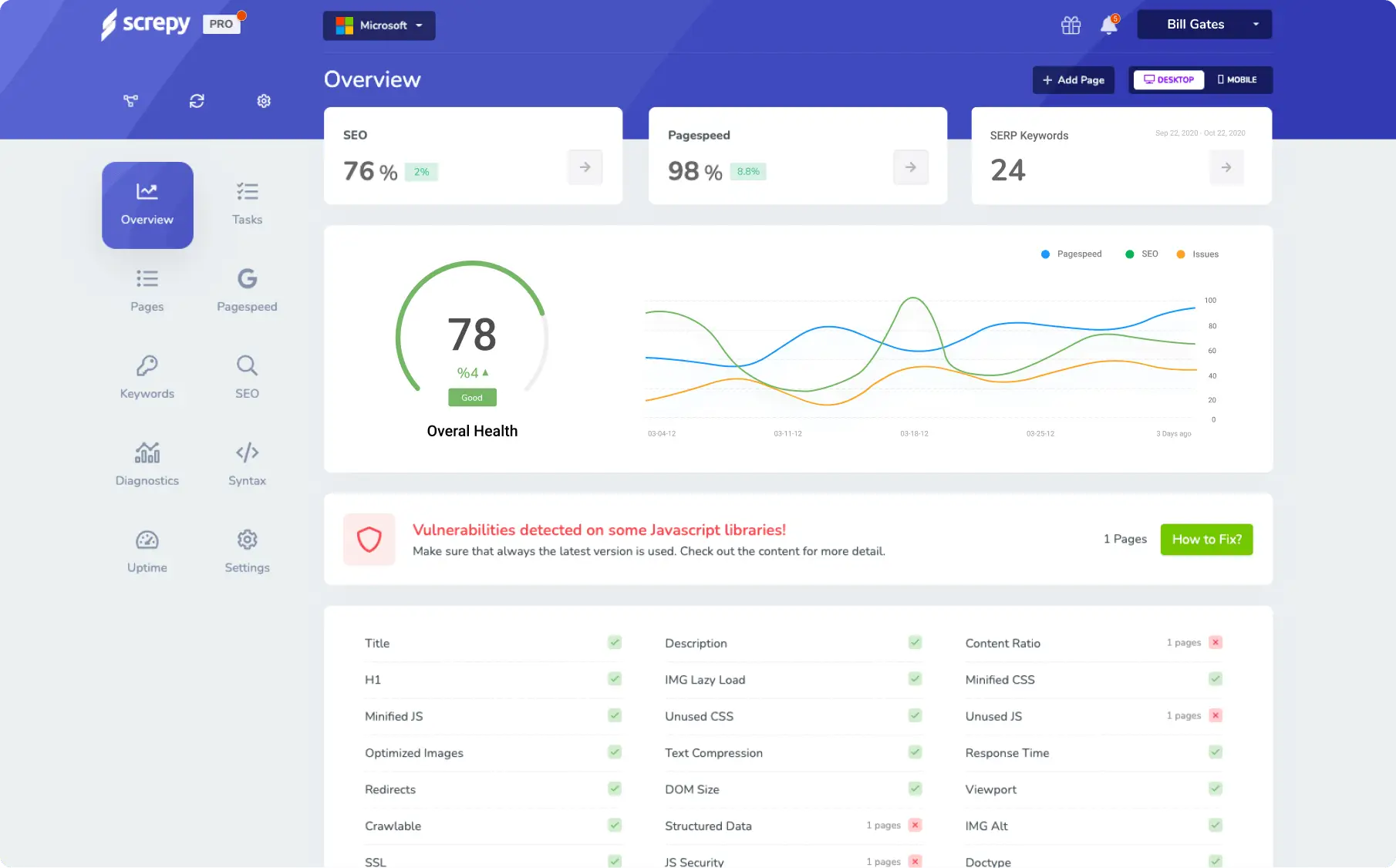 Recommended SEO Tool
We've been using Screepy for a few months now and it has been nothing short of amazing. The insights and reports it provides on our sites have given us a tremendous insight into making improvements to our client's websites. It has helped Webmaster506 optimizing page speed, improving our client's SEO score and monitor their rising keywords with ease. We highly recommend Screepy to anyone looking for an AI-based SEO & web analysis tool!